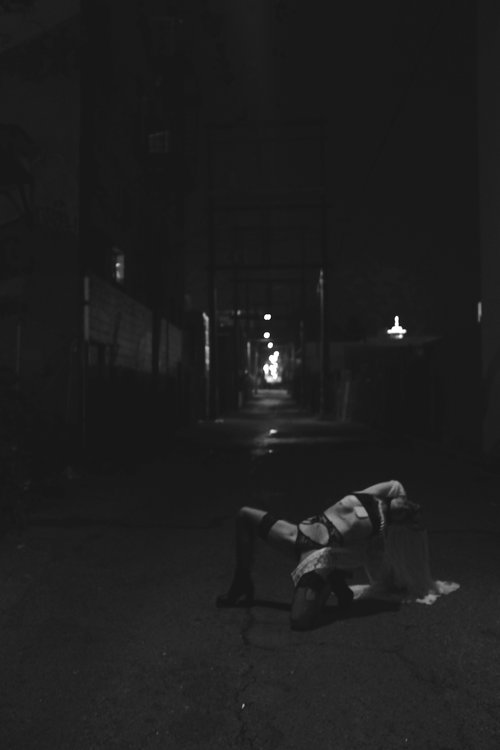 Analissa Longoria is a photographer who shoots documentarian style portraits in low light and uncontrolled environments. Through these technical and environmental challenges, she developed her bold, unique style. Self-taught, she has shot manually for over ten years. She lives in East Vancouver, where she was raised.
The dynamics of Longoria's work are mirrored by the movement of her life –  she has photographed and lived in Hawaii, Texas, New Mexico, and Tennessee. Much of her time in the American South was spent on the highway, travelling by car or motorcycle. After returning to her hometown, she wanted to move to New York. With that dream on hold, she turned to document her city's essence and used the camera lens to view her hometown with fresh eyes.
Longoria documents subcultures within a city that is being gentrified and losing culture due to that gentrification. She preserves the essence of what East Vancouver has always been – a place for artists, the alternative, the underdog, and the underprivileged. Subcultures interest her, but within the alternative crowd, the people who draw her are bold, proud of who they are, live with an edge, and wear that sharpness. East Vancouver is where someone can exist as they are. Longoria says, East Vancouver is a place to be free.
The 99 B-Line bus runs the length of Broadway between the busy Commercial Drive skytrain hub and the University of British Columbia. Broadway is an artery of the city; many commuters rely on it and live within ten blocks. Longoria has lived near Broadway since returning from Hawaii and her photography series, The 99, chronicles the community that flourishes along that corridor.
The 99 captures fragments of the night: models posed together against the tiled grid of the bathroom wall at the Water Me fashion show, the natural contrast between one person in a mesh shirt and leather collar and another in a wedding dress at the Dark 80s warehouse party, a masked woman in lingerie contorting in an alley behind the Astoria hotel, or friends in leather and denim catching a cigarette outside the venue in the breath between bands. Her portraits humanize, giving faces to the city's artists, models, musicians, and workers who endure the constant threat of displacement. She began the series shooting in black-and-white as a vocation and continued with the momentum; the emphasis on contrast and shape captures the grittiness of her subjects.
Longoria's portraiture immerses her subject in their environment. The images tell a story and capture a sense of place. One of Vancouver's dwindling venues isn't only a space to perform in; it's an epicenter of community and place of connection. In the last three years, Longoria has seen shopkeepers she grew up with on Main Street in tears, because the building owner raised her rent until she lost her business. She's seen women crying outside their homes, because they're being displaced: the houses slated for tear down and development. Her environmental portraits erode the current oversimplification of houses and venues marketed as development opportunities. Her subjects are people and that opportunity is their home.
The sibling series to The 99 is Nocturnal Femme: a colourful and fun collection that documents femme people who dress up as a means of creative expression. It honours those who shrug off old idioms that caution them to stay inside and be "good". It's about enjoying the nightlife, being free, staying out, and feeling great.
Analissa Longoria shoots portraits, bands, fashion shows, and club nights. Find her work and options for booking on her website.