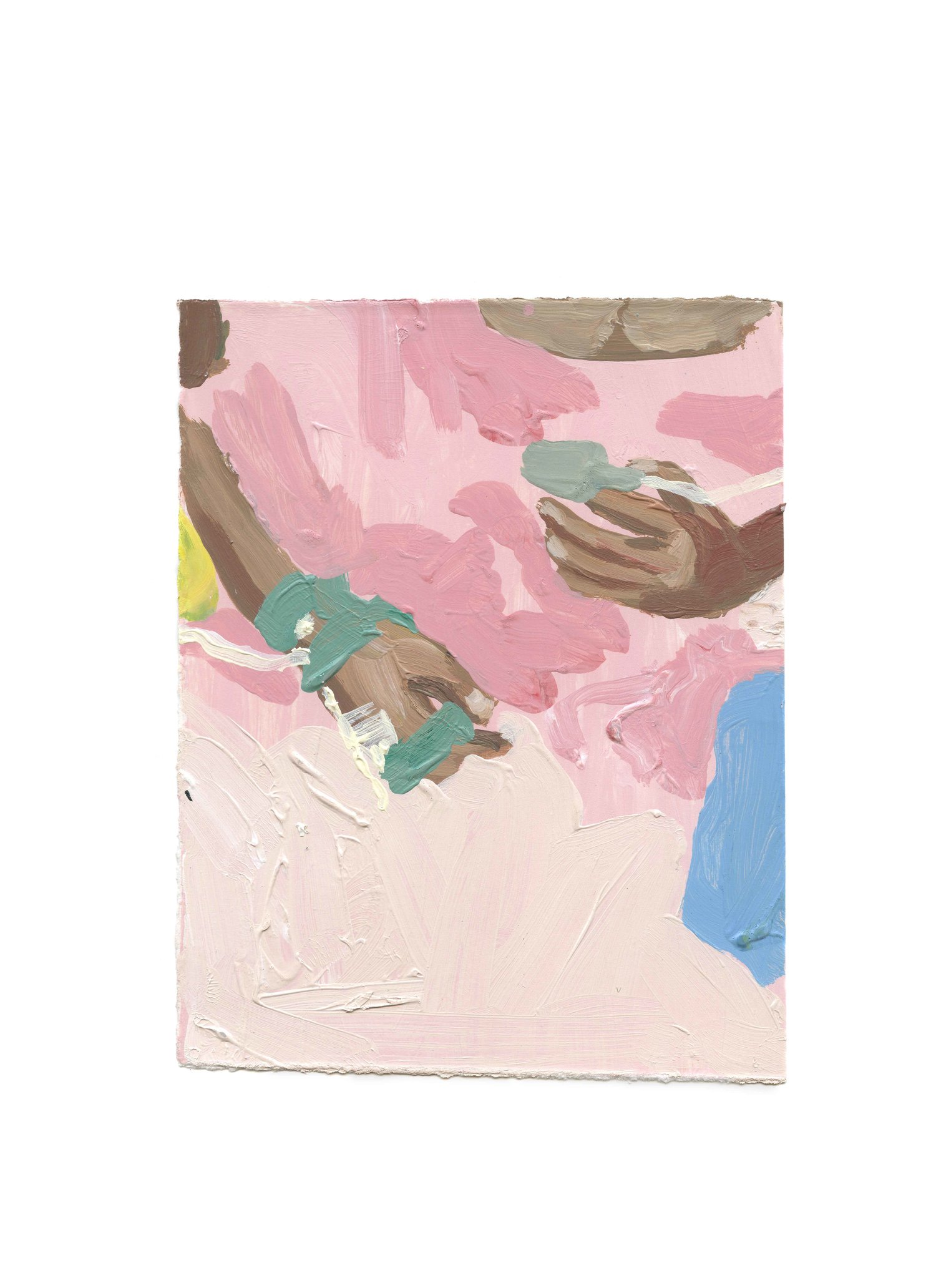 Exhibition Statement for Life Jacket & Other Paintings at The Bakery gallery
Ryan Romero cultivates a unique perspective on culture and the identities we form around it. He was born in Manila, Philippines and raised in Riyadh, Saudi Arabia, before he relocated to live and work in Vancouver, Canada. He has an extensive background in design and advertising, with an international client base. His background in design imposes a rigidity on his creative process that, for other creative pursuits, he chooses to ignore. Instead, he sets aside the grid to transcribe day-to-day moments with an organic lucidity. He graduated from the IDEA School of Design at Capilano University in 2008.
Romero's personal life experiences and observations dictate his practice. His paintings capture a range of moments, locations, and people. Each work layers his subjective perspective of environment and identity in everyday life. The pieces consider the artist's involvement as an outsider or traveler and his efforts to integrate, learn, and build relationships to gain greater understanding of the world. Romero observes and provides a platform for unique narratives through documentation, his own as well as others'. The paintings contemplate culture, self, and community through crude, yet intimate, perspectives of the human condition.
Romero completed a total of 52 paintings while staying at the Elmo's House artist residency in Batan, Philippines. It was a time of transition in his life. After stepping away from a design firm he co-owned and operated in Vancouver, he joined his then partner at her familial home in the Philippines and documented snippets of life.
His paintings catalogue commercial signage or hand-written epitaphs on family crypts. Portraits of the puppy, Asahi, boil with energy on bubblegum pink backgrounds. Quiet, intimate moments are captured. A green lace blouse lattices a woman's back. The ill father of his then partner pauses, his face eclipsed with his raised hands. There is one self portrait, painted when Romero arrived in Batan. The pieces confront the acceptance of small daily moments through gestural strokes and bold panels of colour.
Romero utilizes a vibrant palette of bright pastels. While Batan itself bursts with colour – he remarked on the vividness of sun-soaked pastels in the afternoon sun – Lucian Freud inspired Romero to channel Batan's light, bright palette onto the canvas. In the mid-1970's, the well-known portrait artist, Freud, began to utilize Cremnitz White: a dense, sculptural oil paint with a warm, yellowish white. The use of Cremnitz White allowed Freud to capture the dynamacy and variations in the flesh of his models, with colours that popped and brushstrokes that dried retaining the memory of the painter's movement.
Freud said, I paint what I see, not what you want me to see. When Romero began painting in Batan, he documented what he saw. After years of focusing on his design business, the return to painting was an attempt to ignore every creative instinct he learned from design: hard lines, considering the client, the meticulous thought that goes into each miniscule aspect of a logo, how to shape with the intent to resize in different ways, or to sell something.
His sense of authority in his craft had dissipated. He had studied both design and painting, but he hadn't touched brush to canvas in years. The intersecting lines of not feeling like an expert in anything and a fresh start in a new environment placed him at a point where he began to paint. He needed to do something, so he painted to make sense of his time. Elmo's House allowed for the freedom, time, and solitude to start again, create without judgement, and be inspired by other artists at the residency.
Painting allowed him to spill out of the rigidity of design into something organic, which had always been a part of him. As a designer, he worked to capture what the client needed and produced what they wanted. The act of painting allowed him to mine from inside himself and produce personal work that was lucid and responsive to the environment.
Living in Batan, he captured something that not many people get to see. There is an element of observing the fragments of life in a small seaside town from his unique point of view, but in addition, he shares his own life lived there: a calendar year of transitioning the pain of losing a family member, interacting with the local people, navigating the regional municipality, and immersing himself in a completely new botanical environment.
There aren't enough stories like this. Romero, as a Filipino and Filipino-Canadian, uses both mediums of paint and the binding of the book to navigate his place in both worlds. At a younger age, he felt he belonged to Canada. As he aged and searched for uniqueness within himself, he felt a belonging to the Philippines – but, it's somewhere else entirely and the paintings capture a fluid narrative of home and identity.